The project consists of the installation of all civil scope components and critical heavy equipment installation for the Oak Grove TXP3 Civil Installation Project. Project is for the expansion of the existing Oak Grove facility in Marshall County, West Virginia with the addition of a new 200MMscfd Exterran skid mounted turbo-expander facility (TXP3).  The Oak Grove Plant is a brown field location with several active complimentary gas processing facilities on site.  These existing facilities/BOP items include a slug catcher, two (2) DeEthanizers, two (2) Stabilizers, a Turbo Expander, and a process flare.
Summit is currently constructing the Oak Grove TXP2 Facility.
Summit was awarded Enterprise Product's iBOL Purification Project.  The scope of work includes Detailed Engineering, Procurement, and Construction services for the installation of all civil, piping, mechanical, and electrical work associated with the iBOL Purification Upgrade Shutdown/Turnaround project.  The work is to be completed during a planned shutdown at the facility.
Summit was awarded Enterprise Product's ECHO Seaway Booster Station Project.  The scope of work includes all Detailed Engineering, Procurement and Construction required to install two (2) booter pump stations and associated deep foundations, civil, mechanical, and electrical at the ECHO terminal storage facility located in Houston, TX.
Summit was awarded Enterprise Product's Ethylene Export Installation project at the Morgan's Point Facility.  The project entails the installation of critical piping upgrades for the facility with the scope of work to include fast tracked procurement and intallation of piping system to allow Operation to re-route product.
Summit was awarded the complete Detailed Design, Engineering and Procurement support for three (3) new Y-Grade Mainline Pump Stations along the Grand Prix Pipeline system throughout Texas. Summit Industrial offers full multi-disciplinary engineering & detailed design services with extensive experience in the midstream, downstream and power market sectors.
Summit Industrial was recently awarded the OMBS Flare Relocation Project from ONEOK Partners LP.  This project involves Summit preparing a detailed engineering and design package for replacing and relocating an existing flare system at the ONEOK Mont Belvieu facility. Summit is responsible for creating construction documents for all disciplines on the project and will be the owners rep. throughout construction. Scope includes sizing/relocating new and existing equipment, foundation design, pipe routing, procurement support, and design of the control system for the new flare.  This is an important milestone for Summit as this is our first project with ONEOK and has great potential for recurring engineering work as well as construction opportunities.
Summit employees Chris Combs and Riley Hornback attended the Annual Pipeliner's Golf Tournament, accompanied by Nicole and Meghan Johnson (wife and sister, respectively, of VP Josh Johnson).   Summit sponsored the Tiger Drive hole to help raise money for industry focused scholarships.  This is Summit's second year as the Tiger Drive sponsor and partner with the Pipeliner's Association.   For more information about the Pipeliner's Association of Houston, please click here:  https://www.houstonpipeliners.net/about_us.php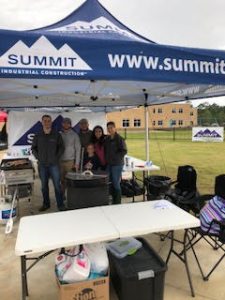 Summit Industrial was honored to be the primary food sponsor at the Groves Oak Elementary carnival this year. The Summit Team prepared a big batch of pastalaya! All proceeds were donated to the school.
The event is held to raise money for the school and was greatly supported by local businesses. The events ranged from an auction with items from the Rockets, Astros, Cowboys and Texans to over 50 booths with local vendors. There were lots of activities for the kids to enjoy including inflatables, a petting zoo, bungee jumping to name a few.
Summit Industrial has been awarded the contract for the installation of new facilities to increase the capability of the AEGIS Ethane Pipeline.  The scope includes the installation of two (2) each 2,750 hp Booster Pumps, tying into the existing ANSI 600, 20" AEGIS pipeline, and all necessary sitework, E&I, pipeline, and utility upgrades.
Summit Industrial has been awarded another project with Williams.  The project consists of all procurement and construction responsibilities for the addition of a new 200MMscfd Exterran skid mounted turbo-expander facility as well as a centrifugal residue compression unit to complement existing facilities in Marshall County, West Virginia. Scope includes all sitework, foundations, structural and equipment erection, piping, and electrical activities.