Business Development Manager(s) Needed Looking for multiple energy industry professionals with a focus on business development & sales in the Oil & Gas, Chemical, Refinery & Power market segments. These individuals will have experience and proven success for building relationships with Owners, Engineering firms, EPCs, OEMs, etc. Their primary focus will be on bringing in "Quality" Construction and EPC opportunities for Summit to pursue. They should be knowledgeable about the energy industry and have real "Market Intelligence". These individuals must have a burning desire to be successful. Very competitive compensation package and is commensurate with experience. Minimum of 3 years experience selling services and/or technical products to the industrial/energy markets. These positions will be located in Summit's Houston, TX office. email resumes to jobs@summit.us
Project Coordinators
This position will be in charge of assisting our Site and Project Managers in organizing our ongoing projects. This task involves helping develop and maintain project schedules and work plans, tracking hours and progress, field quantity tracking, procurement facilitation, document development and project turnover and close-out.
To be successful as a Project Coordinator, you will need to be able to work on tight deadlines, have competency with computers including MS Excel, and have exceptional verbal, and written skills. A bachelor's degree in a related field of study with at least three (3) years of relevant experience or equivalent field experience is required for consideration.   Click here for a full job description.  Please send your resume to Brian Williams at bwilliams@summit.us.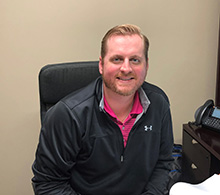 Summit is very pleased to welcome Chris to our Construction Team as a Senior Project Manager.  Chris is a graduate of Texas A&M University with a concentration in Construction Science. After Graduating from Texas A&M, Chris went to work on Large Scale commercial projects including Class A Office Buildings and Hospitals. In 2010, Chris began his career in the industrial sector. Chris has spent the last 8 years in project management of mid-stream and down-stream facilities throughout the country.
Summit is currently looking for an experience Regional HSE Manager. This position will be responsible for 1-3 projects around the Houston area and is responsible for the management, coordination, and successful completion of the HSE requirements for these projects. The position will be responsible for providing guidance and support to these projects and management to ensure clear understanding of safety policies and procedures. Click here for a full job description. Please email Brandy Haynie: bhaynie@summit.us or call us at 678.646.0293.
Summit will begin internal design & engineering immediately for six (6) greenfield, NGL booster pump stations along Enterprise's TX Express Pipeline System. The stations will be at locations along the TEP pipeline from Skellytown, TX through Mont Belvieu, TX. Along with engineering the contract scope includes all construction disciplines and full procurement. The projects are slated to conclude during the 2nd Quarter of 2019. Another great project for Summit Industrial with Enterprise Products.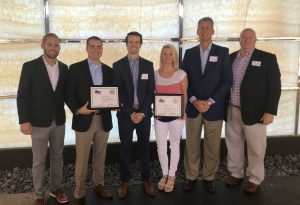 Pictured (L to R)  R. Hornback, J. Dombart, T. Madden, A. Rolen, J. Johnson and P. Vowell
The Associated Builders and Contractors (ABC) of Houston recently honored the winners of their annual safety awards.
Recipients of ABC's 2018 National STEP Award were recognized during a Breakfast Award Cermony on July 13th, 2018, at the University of Houston Hilton Hotel.  Summit Industrial was recognized for safety achievements and was awarded the 2018 Platinum STEP Award.
Summit was awarded the Platinum STEP Award in 2015, and Diamond in both 2017 and 2016.
Summit Industrial was awarded the Jones Creek Tank Farm Facility Expansion Project with Enterprise Products.  The scope of work includes all civil, structural, mechanical, piping, electrical and instrumentation work associated with 18,000 LF of 14″ and 30″ piping, VCU Equipment, two (2) booster pumps, PEC buildings, and associated tie-ins.  The project entails all construction work required to install new facilities associated with a new 600,000 BARREL Tank at Jones Creek Tank Farm Facility located in Jones Creek, TX.
The project consists of the installation of all civil scope components and critical heavy equipment installation for the Oak Grove TXP3 Civil Installation Project. Project is for the expansion of the existing Oak Grove facility in Marshall County, West Virginia with the addition of a new 200MMscfd Exterran skid mounted turbo-expander facility (TXP3).  The Oak Grove Plant is a brown field location with several active complimentary gas processing facilities on site.  These existing facilities/BOP items include a slug catcher, two (2) DeEthanizers, two (2) Stabilizers, a Turbo Expander, and a process flare.
Summit is currently constructing the Oak Grove TXP2 Facility.
Summit was awarded Enterprise Product's iBOL Purification Project.  The scope of work includes Detailed Engineering, Procurement, and Construction services for the installation of all civil, piping, mechanical, and electrical work associated with the iBOL Purification Upgrade Shutdown/Turnaround project.  The work is to be completed during a planned shutdown at the facility.
Summit was awarded Enterprise Product's ECHO Seaway Booster Station Project.  The scope of work includes all Detailed Engineering, Procurement and Construction required to install two (2) booter pump stations and associated deep foundations, civil, mechanical, and electrical at the ECHO terminal storage facility located in Houston, TX.