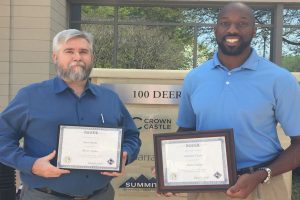 (L to R) Ryan Brooks and Jonathan Scott
Summit Industrial currently has two NCCER certified Master Trainers – Jonathan Scott (Sponsor Representative) and Ryan Brooks.  Summit Industrial is currently in Candidate Status with NCCER, which means that we can actively train employees and are in the process of becoming an ATS (Accredited Training Sponsor) within the year. Summit Industrial has the in-house capability to fulfill the requirements of the DOT Operator Qualification regulations 49 CFR Part 192 and Part 195 through NCCER's Pipeline Training and Assessment Program.
A Master Trainer is an individual who has been certified in accordance with NCCER's Instructor Certification Training Program (ICTP) for Master Trainers and is authorized to train craft instructors and Performance Evaluators. Master trainers are trained and certified directly by NCCER through a Four-day training program (MTICTP).
 
About NCCER
NCCER is a not-for-profit 501(c)(3) education foundation created in 1996 as The National Center for Construction Education and Research. It was developed with the support of more than 125 construction CEOs and various association and academic leaders who united to revolutionize training for the construction industry. Sharing the common goal of developing a safe and productive workforce, these companies created a standardized training and credentialing program for the industry. This progressive program has evolved into curricula for more than 70 craft areas and a complete series of more than 70 assessments offered in over 4,000 NCCER-accredited training and assessment locations across the United States.