Quality
---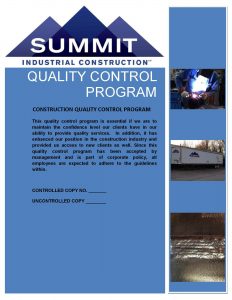 Summit Industrial has experience in all facets of the Heavy Industrial Markets.
"Our Safety protects our people and our Quality Control protects our clients by ensuring the integrity of each and every project we perform."
Site Management and supervision are trained in the Quality Control requirements on every project and those requirements are included in each and every Work Package we produce.  We document the success of the work we do to assure compliance to Codes, Specifications, and Standards.  The results are a Quality Product for every client on every project.
Summit Industrial is committed to Continuous Improvement.  Non-compliant work is documented and corrected with the results included in our Lessons Learned for each project.  The information gained is vital to Summit's constant improvement on every project performed.
Summit Industrial's Quality Managers are certified and knowledgeable of ASME, AWS, ACI, ASNT, and API codes and all associated standards.  These codes are implemented by our Site Specific Quality (SSP) Plan and Inspection and Test Plan (ITPS) on every project as required to establish site standards and assure a quality product for our clients every time.
Proud Members Of:
---
Summit Industrial is a member of the American Institute of Structural Construction (AISC) and as a company has obtained a company Certification through AISC as an Advanced Certified Erector.  This was accomplished by Audit of our Safety and Quality programs and verification of field activities.
The American Institute of Steel Construction (AISC) is headquartered in Chicago and is a nonprofit technical institute and trade association established in 1921. The AISC was created to serve the structural steel design community and construction industry in the United States. As part of AISC's mission, their emphasis is on increasing the structural steel industry's share of the construction market, unifying the industry with a common purpose and supporting and improving the structural steel industry to be both innovative and competitive in a worldwide construction market.
Summit Industrial's Code Stamps
---