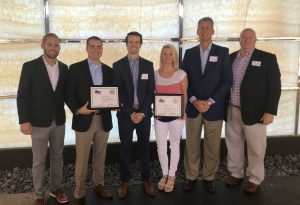 Pictured (L to R)  R. Hornback, J. Dombart, T. Madden, A. Rolen, J. Johnson and P. Vowell
The Associated Builders and Contractors (ABC) of Houston recently honored the winners of their annual safety awards.
Recipients of ABC's 2018 National STEP Award were recognized during a Breakfast Award Cermony on July 13th, 2018, at the University of Houston Hilton Hotel.  Summit Industrial was recognized for safety achievements and was awarded the 2018 Platinum STEP Award.
Summit was awarded the Platinum STEP Award in 2015, and Diamond in both 2017 and 2016.